Facing Worlds - Version 2.00 RELEASED! - UPDATED 4/09/13
Get ready tor the fight of your life.
Not for Gold.
Not for your opponent's brain.
Not for planetary domination.
Today you fight for.....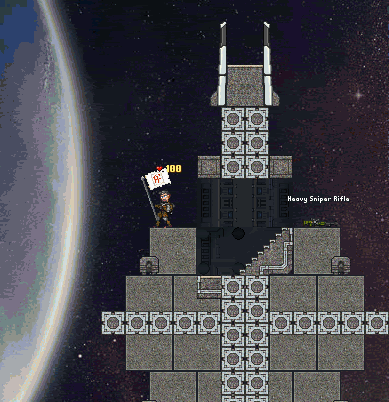 ....a piece of cloth on a metal stick.
It is arguably the best CTF map of all time. It has been remade for countless games.
Well guess what TradeStar just delivered?
Facing Worlds for Cortex Command!
With some more effort and Lua code, it is an epic Capture the Flag map once again.
ORIGINAL MAP PICTURE (From Unreal Tournament '99):
http://img413.imageshack.us/i/face31024.jpg/
Check
http://www.datarealms.com/forum/viewtop ... =8&t=12396
thread for pictures and original concept.
Introducing the release of V2.00!
FEATURES/CHANGES:
-Completely redone base towers, made to be more accurate to the original UT99 map CTF-Face. Teleporters port to each of the places they do in the original UT99 map as well!
-Scene enlarged and background issues fixed with a higher resolution image. Terrain cleaned up.
-CTF Gameplay. First to 6 captures wins! To capture the flag, your actor must pick it up, carry it to base, and DROP IT at your flag node.
-Low gravity outdoors, normal gravity indoors!
-Combo sounds! Score a double kill, multi kill, ultra kill and monster kill by killing 2,3,4, or 5 actors within 5 seconds of each other for a combo, complete with announcer voice!
-Sounds played for Flag being taken, Flag being returned, and Flag being captured!
KNOWN ISSUES:
-Combo kill sounds are a little lagged behind, especially in heavy action, however, when played, they are not affected by the timescale.
-The Flags themselves tip over at initial map load and whenever the flag is returned.
-Weapons are considered placeholders until I implement custom UT'99 weapons!
-Background is a huge file, and is set to look "proper" at 1024x768, but will look fine on lower or higher resolutions as well, upto 1600x1200.
NOTE: All previous dependencies on the map pack, outside file editing, etc have been removed. It is now a one .rte File!
DOWNLOAD LINK UPDATED AS OF 4/9/13 (Keep in mind I haven't touched this since build 23 or 24, and I'm only reuploading this as per a direct request).
LINK:
http://filesmelt.com/dl/Facing_Worlds.rte_.rar"%20target="_blank">Facing_Worlds.rte_.rar
CREDITS:
mail2345
: Lua master coder, created CTF gametype coding, sounds workaround, combo kill counter code, pre-release testing/editing, basically the codemaster.
LowestFormOfWit
: Terrain, Scene, Concept, Custom Modules, select bits of coding, etc.
Gotcha!
: Modules from the old Map Pack 3
sovietcommando
: Modules from old Map Pack 3
Nova
: Spriter of the animated flag shown above from his old Whitebot mod. I will base my flag off of this.