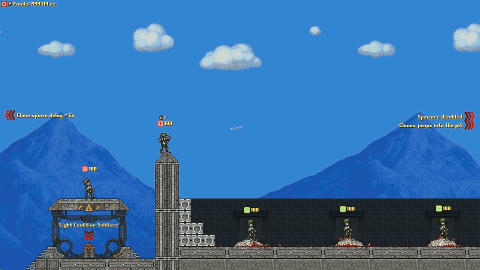 No matter how many times I watch things get squished by a 1400kg mound of tin, it never gets old. I even programmed it to have nuances so that if the rocket is travelling fast downward, it will apply the rockets velocity to the mound, and if it's travelling upwards, it will lessen that effect for a couple steps and then at a very high angle, it will start achieving downward velocity again (to make up for the distance it has to cover to get to the ground, but also gives it a special case factor if you want to REALLY let gravity throw the mound into an enemy). Basically though, it drops a 1400kg mound of tin over the first enemy it flies over lol.
On the side I developed a tool to clean up the tin. It doesn't effect anything other than tin or scrap metal, and it can be weaponized but because of how weak it is and the feedback, it's not recommended.
(putting a link because its a much larger and boring gif)
http://www.mediafire.com/convkey/239b/l9y5jamlhshj439fg.jpg?size_id=4
Should I make this a minimod? I almost feel like it's too small and useless... plus I'm using sprites from FD's Armory (because he happened to have a weapon that served as the base for it, the
Janitor
).