CAUTION: FIRST MOD
NOW WITH PICTUES!
hi to anyone that's left after my warnings!
quick intro, long time snooper, first (fine, third) time poster.
now that that's out of the way, i'd like to introduce you to my HALO mod.
i have asked about and since there is that unwritten rule about no first mods i figured i'd hide it here to get to my second mod. note that the damage from these guns is based more or less upon CC first and Halo second (meaning that the MA5B is ♥♥♥♥ but still kinda useful). that said, the snipers are kinda OP'd... also note that the gold values are not changed and so things might cost to little/much.
if you are nice enough to test it PLEASE pm me and tell me what you think, as long as the "omgwtf this sucks" is followed by a "because..." and a reason
THINGS THAT ARE IN AND ARE MOSTLY DONE
MA5B (halo 1 assault rifle)
MA5C (halo 3 assault rifle)
M6D (halo 1 pistol)
M6C (halo 2 pistol)
M6G (halo 3 pistol)
M90 MK I (halo 1 shotgun)
M90 MK II/A (halo 3/odst shotgun)
SRS 99C S2 (halo 1 sniper)
SRS 99D S2 (halo 3 sniper)
Rocket launcher (halo 1/3 rockets)
Missle launcher (halo 2 rockets w/lock)
THINGS THAT WILL BE IN FOR SURE
frag grenades (halo 1, 2 and 3)
marines (halo 1,2 and 3)
ODSTs (halo 3/odst)
pelicans (halo 1, 2 and 3)
odst drop pods (halo 3/odst)
THINGS THAT MAY GO IN IF I CAN FIND A SPRITER
elites
grunts?
covenant weapons (probly no carbine or beam rifle because i dont know how to do a laser)
phantom (covenant pelican thing. BONUS:PURPLE!)
plasma grenades
spike grenades
incendiary grenades (firebombs)
bubble shield?
regenerator?
recharging spartan shields?
KNOWN ISSUES
resprite/recode of coalition, therefore it retains the same crappy setup
no actor sprites
some gun offsets wrong
ALL clip offsets wrong
NO clips yet

TWEAKS TO BE DONE
make halo 1 pistol more godlike (think peacemaker)
make rockets more deadly (add shockwave instead of frag particles?)
increase the initial launch speed of the missiles (halo 2 homing rockets)
the activities is in commented out, just has some coalition guys with halo guns.
THIS MOD MAY HAVE REFERENCES TO VANILLA CONTENT ie: coalition.rte and base.rte
credits go out to the HALO: ZERO team, whose sprites are the basis of my own BUT ARE NOT COPIED! as well as the HALOPEDIA team, who supplied a good ninety percent of the values for the guns (fire rate, accuracy, damage, ect...)
please note that if it doesnt get attached to this post I DIDNT MEAN IT and ill try and fix it as soon as possible.
THIS IS THE BEST PICTURE I CAN GET FOR NOW, I'LL GET SOME BETTER ONES WHEN I GET HOME.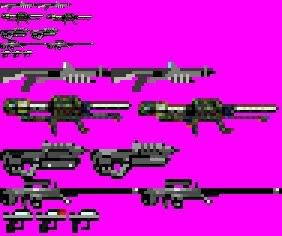 [/endtextwall]