This mod is a loose recreation of the weapons from MW2 for cortex command,
using real world statistics such as bullet velocity, gun weight, effective range, fire rate, bullet caliber and reload speed among others
Created by
Psyk323
and
StoneCrow
The v0.8 version of our latest mod is finally done for changes and more see below, check it out
The plan was originally not to put this up here untill it was completely finished, but once again school got in the way with tests and im uploading the near finished version, only things left really to do is add snipers and all of the new sprites that psyk has been working on (completely new looks for weapons)
It would also be nice to get a little feedback on it

Its also possible to download it on the mod DB page

UPDATE INFO
In the new version you get new weapons! and a dropcrate.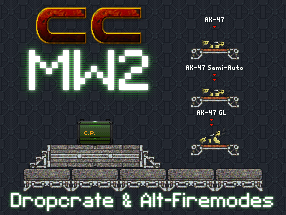 New weapons and things include
A "care package" drop crate,
new fire modes for the,
AK47, semi and grenade
M4A1, grenade
Glock18, semi
AA12 autoshotgun, semi
new weapons
RG-6 grenade launcher
Hand Grenade
A completely Redone gameplay
now instead of following statistics from Call of Duty MW2, all the weapons are based on their real life counterparts and statistics, this includes,
real life weight
real life speed
real life penetration
real life fire speed
real life clip weight
realistic grenades
real life reload speed (based on reload videos)
real life zoom range (based on real life effective range /2)
the only non true thing balancing the weapons atm is the bullet weight and this is still based loosely on their real life weight.
explosives particularly are very very volitile,
and youll see how fire modes changes this to make all weapons generally good all rounders,
for example assualt rifles are slightly more accurate and have a longer zoom range in semi auto.
DETAILED WEAPONS INFO
It currently contains, assualt rifles, shotguns, machine pistols, pistols and explosives, multiple firemodes and more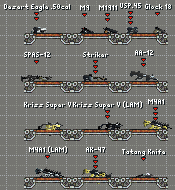 !incomplete image!
Assualt Rifles
The AK47 (semi, auto, grenade)
The M4A1 (auto, grenade)
The Kriss Super V (auto)
Shotguns
Striker Shotgun (semi)
AA12 (semi, auto)
SPAS12 (semi)
Pistols
Desert Eagle 50.cal (semi)
USP.45 (semi)
M9 (semi)
M1911 (semi)
Magnum (semi)
Machine Pistols
Glock 18 (auto, semi)
PP2000 (auto)
TMP (auto)
Explosives
Grenade (fragmentation)
"this is based on real stats, so very volatile"
RG-6 (semi)
Melee
Tatang Knife
"fairly broken in this version"
Drop Crate
one care package box delivered upon a parachute and then self destructs
(parachute code not mine)
(i pasted it out of another mod about a year ago to use)
(and have been modifying it in small ways since)
Some Weapons have Laser Aiming Versions and Special ops versions with different parts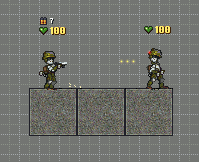 LAM = Laser Aiming Module
Download

Credits
Created by:
Psyk323: Spriting/Art + Ideas + sounds
StoneCrow: Coding
Acknowledgements and Thanks to:
CaveCricket48
for supplying great .lua code on forums.datarealms
Darlos9D
for letting us use his effective laser sights code.
Check out our ModDB page

Have Fun.