CROBOTECH BETA 3.1
Changelog:
3.2:
Changed a lot of wounds to make them more robotic.
Made the Crobos a bit tougher.
Added an Activities.ini
Couple of other tweaks.
3.1:
Updated to fix Mac compatibility.
Known Bugs:
If you have changed your DeltaTime setting away from the default
DeltaTime = 0.0166667
some weapons will not function correctly.
An army of powerful robots with advanced weaponry.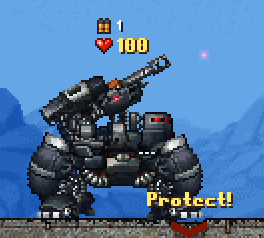 Features:
Two base infantry actors, the grunt and heavy, that change depending on what weapon they are given.
A large walking artillery piece.
A selection of semi-futuristic themed weaponry.
Pretty explosions

A teleportation system to safely deliver units.
----------------
I was going to wait till the next build to release a beta, but since it seems like that's a long way off I cut out a bunch of unfinished stuff so you could all play it now.
A lot of you probably haven't used the Crobos as I haven't released anything since build 23 came out, I hope you like them!
Apologies for making all you old hats wait so long!
Lots of thanks go to TLB for all the help with lua, almost all of it was written by him
The tank was based off of one of No_0ne's Acrab units.
Lots of thanks to everybody who encouraged me to keep working on this mod and to all the other modders that inspire me

Maybe one day I'll finish it!